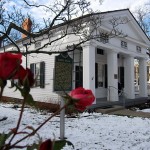 Annual Membership
We invite you to join the many friends who support the events and programs of Kempf House Museum, which is a 501(c)(3) organization.
When you become a Member you will…
Receive our newsletter and email notification of events.
Receive member pricing for events.
Be able to purchase advance tickets for special events.
Know that you are helping support an Ann Arbor treasure.
The General Fund
Funds raised will help with upkeep and maintenance of the museum as well as ongoing programming.
The Piano Fund
Funds raised will be used to preserve and maintain the instrument for the enjoyment of future generations.
The Garden Fund
Funds raised for the garden are a great help in its ongoing restoration and maintenance.
Prefer to donate by check?
Click to download the membership form.
Please feel free to print the form and send it, or pick up a membership envelope at the Museum, with your check payable to Kempf House Museum to:
Membership
Kempf House Museum
312 South Division Street
Ann Arbor, MI 48104